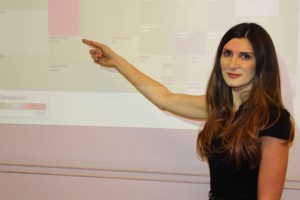 Kristen Sosulski is an Associate Professor of Information, Operations and Management Sciences at New York University's Stern School of Business and the Director of Learning Sciences for the NYU Stern W.R. Berkley Innovation Labs. Professor Sosulski received her doctorate in Communications, Computing, and Technology in Education from Columbia University. Her B.S. is from NYU Stern School of Business in Information Systems. She teaches MBA and executive courses in data visualization, computer programming, and operations management. Her passion for technology and learning sciences has led her to a career as an information systems professor in a business school who develops innovative educational initiatives for higher education.
Professor Sosulski is the co-author of the Essentials of Online Course Design: A standards-based guide (Routledge, 2011, second edition, Routledge, 2015) and the Savvy Student's Guide to Online Learning (Routledge, 2013). She is working on her third book on the topic of data visualization. More information coming shortly.
Professor Sosulski's research, and practice focus is on technological progress in education and visualization. Her specific area of expertise is learning technologies and data visualization.
Learn more about Kristen Sosulski's talks and review her CV.