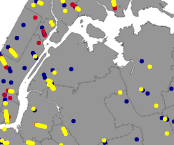 To create an interface for our audience to explore our data.

There are strong arguments for why we create data visualizations. In this world of big data, visualizations allow audiences to easily explore and understand our statistics through a visual interface.
Many organizations provide visual interfaces for the public to view, filter, search, and drill down into complex data sets. Users are able to investigate data based on their personal objectives.